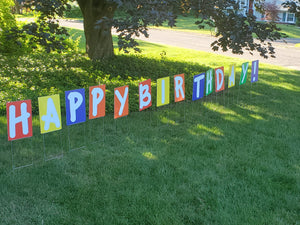 Birthday sign request
Signs are available for PICKUP ONLY. Signs will not be shipped.
Welcome to our Birthday Sign Borrowing Program! All you need to do is reserve your date, make a fully REFUNDABLE security deposit & pick up your signs. You will get 14 signs plus metal sign stands that you can proudly display in your yard for that special birthday boy or girl.
Here's how it works:
Have you confirmed sign availability for your birthday? If not, please email us FIRST at info@newtownapparel.com before making your security deposit . Availability of signs is on a first come first served basis and is not guaranteed.
Next, make your fully refundable security deposit here to secure your date. Once reserved, signs will be available to you for 3 days; a pickup day, birthday & a return day. You can pickup & return signs any time between 9am-6pm at our home office location, 24 Diamond Drive Newtown.
Our Request:
All we ask is that you give us a shout out on Social Media (Facebook or Instagram)Take a photo of the birthday boy or girl standing next to the signs and tag us! We would love to see those smiling faces!
Security Deposit: This is to ensure that the signs are returned on time and that signs are not damaged or missing. Your deposit will be refunded once the signs are returned and inspected. 
BY SUBMITTING YOUR SECURITY DEPOSIT, YOU AGREE TO THE TERMS ABOVE