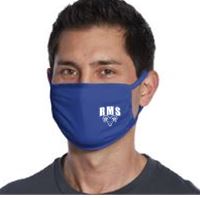 Rochambeau 3 Ply COTTON Face Mask-ADULT
Product Description
Designed for maximum comfort, the Port Authority® Cotton Knit Face Mask goes beyond standard cotton masks thanks to incorporation of Sciessent's Agion® treatment into the fabric. 
This three-ply, 100% cotton jersey face mask covers the wearer's nose and mouth. Elastic stretch binding ear loops help hold it comfortably in place. 
Three-ply 100% cotton jersey

Fabric touching skin: 100% cotton

Mask contains silver and copper

Three evenly-spaced pleats on each side

Machine washable

Non-returnable


Not recommended for use in a surgical setting or where significant exposure to liquid, bodily or other hazardous fluids may be expected and where the infection risk level through inhalation exposure is high.